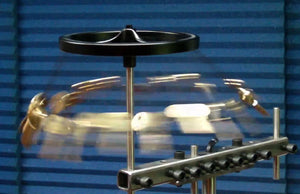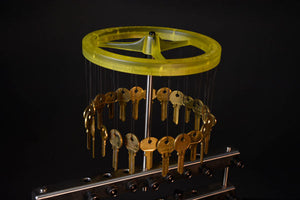 Rotating Key Chime, RKC-24
Regular price
Sale price
$109.00
---
Ron's rotating chime invention is made from an original, polymer cast frame from which 24 brass alloy keys are suspended.
These keys are annealed to the approximate interval of a perfect fourth, and they alternate around the chime frame so that they 'sing' in an open, perfect 4th when played.
The diameter of the chime is approximately 6.75 inches.
In the center of the chime body is an integral polymer bearing, allowing the chime body to rotate freely and smoothly for a gliding, even spin that is central to how, and why this chime performs so beautifully in both recorded and live musical settings.
This polymer bearing is mounted on a 3/8″ diameter stainless steel rod that can be clamped into most any current-day percussion hardware, including Ron's stainless steel FlexMount hardware.  When inserted over the bearing, the chime body will rotate smoothly and gently.   Each individual chime bearing is literally matched to each individual chime body.
The most sound can be produced from this great little chime by turning it at a slow, gentle speed, and placing one or more of your fingers into the keys as they rotate.  To increase the crescendo and volume, continue turning the chime slowly, placing more of your hand/fingers into the keys, while allowing the keys to gently spill over your fingers by rotating the chime with your other hand.
Perfect decrescendo/fade:
When you want the chime to fade, gently remove your fingers from the keys completely, and gradually begin to increase the rotation speed of the chime.  Each individual key will separate from the others by centrifugal force, and each individual key will decay in sound perfectly.  There is no finite 'end' to the sound.  It just fades beautifully and evenly until there's nothing to hear.
This is an especially terrific result in recordings of all kinds, as well as live performances.

To see and hear Ron's Rotating Key Chime being played, click HERE.
To see how to spin-down and take great care of your Rotating Key Chime, Click HERE.
For International Customers outside the Continental United States:  if you are purchasing from outside the Continental United States, please contact us directly with your orders and we can provide you with your purchase totals, and shipping options. 
With that information from you, we can then send you your personal invoice link, where you can find and pay your private invoice online for the products and shipping service level you have selected.
Tip:  we can usually provide reduced shipping costs for your orders through our online store system when compared to standard shipping rates.
Click here to contact us.